God makes his first appearance in "Homer the Heretic", when Homer falls asleep suddenly and has a dream in which he personally appears to him. God is very angry at Homer for "forsaking his church." Homer points out that he's not a bad guy, as he works hard and loves his children, and questions why he should spend half his Sunday hearing about how he's going to hell. After a brief chat about football, Homer explains that what bugs him most about church is the sermons, where God couldn't agree more. He mentions that Reverend Lovejoy really displeases him and that He'll give him a canker sore. In the end, God agrees with Homer's point and agrees to let Homer worship in his own way[1].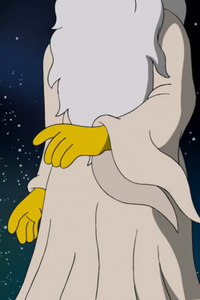 In "Mr. Plow", after Homer reconciles with Barney and decide to join forces with him as partners in their respective plowing businesses, Homer mentions, "When two best friends work together, not even God Himself can stop them." God then replies, "Oh, no?" He causes the sun to suddenly appear, which melts away all the snow, and puts the both of them out of business[2].
In "Pray Anything", after Homer sues the church, he receives the deed to it as part of his award, and turns it into a sleazy hangout place, where all Ten Commandments are broken; the town begins to flood. As the flood starts to rise, Reverend Lovejoy returns in a helicopter and leads everyone in prayer, asking God to forgive them for letting themselves be led by a "demon in blue pants." [3]
In "Thank God It's Doomsday", after Homer arrives in Heaven, and sees Marge and his children being tormented by the Devil, he has a talk with God about saving his family. When God refuses to help, due to Jesus' suffering on Earth, Homer becomes angry and runs around vandalizing Heaven in an attempt to change God's mind. God finally agrees to undo the Rapture by turning back time, and restores Moe's Tavern[4].